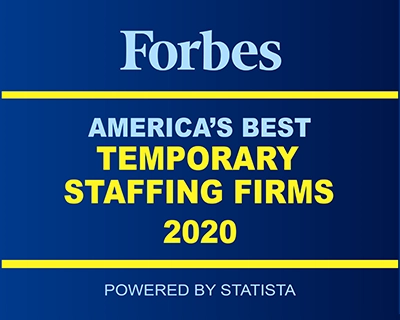 Surge was recognized as part of Forbes' annual list of America's Best Temporary Staffing Firms for 2020.

America's Best Temporary Staffing Firms is comprised of the best recruiting agencies based on the results of independent surveys involving over 26,500 recruiters and 5,400 job candidates and hiring managers.

Out of the 22,500+ recruiting agencies in the United States, Surge was thrilled to be acknowledged as one of Forbes' 2020 list of America's Best Temporary Staffing Firms.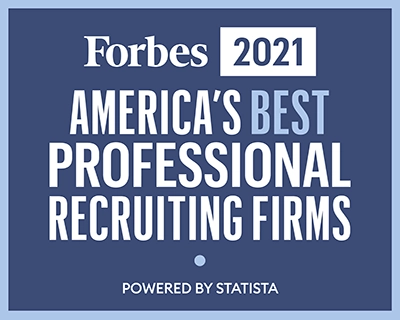 In 2021, Surge was exstatic to again be recognized as a leading staffing and recruitment firm.

In total, more than 31,000 external recruiters and 7,200 HR-managers/hiring managers and candidates were invited to participate in the 2021 survey. More than 26,000 nominations were considered in the final analysis.

The ranking was created through an elaborate process: Participants' responses as well as the final selection of firms in each list were carefully reviewed. Peer recommendations given for an individual's own firm were excluded.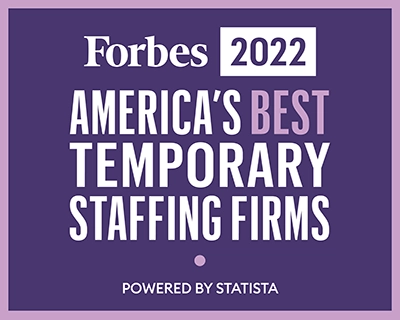 Surge was again honored to be listed amongst the top temporary staffing firms in the nation. To determine the list, Statista surveyed over 31,000 recruiters and 6,900 job candidates and human resources managers who had worked with recruitment agencies.

Firms could not nominate themselves, more than 22,400 nominations were collected, and firms with the most recommendations ranked highest.

We continue to grow annually and we take pride in providing our clients with the best customized workforce solutions.